Individual Information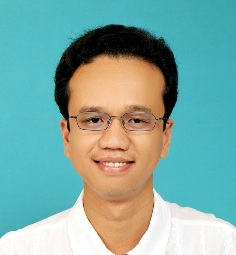 Loc Nguyen
Professor
International Engineering and Technology Institute (IETI)

Web Page: http://www.locnguyen.net
Educational Qualification
From 2011 to 2013, Postdoctoral in Computer Science at Sunflower Soft Company. , Vietnam
From 2007 to 2009, Doctor of Philosophy in Computer Science. , Vietnam
From 2002 to 2005, Master of Computer Science, University of Science. , Vietnam
From 1997 to 2001, Bachelor of science in Information Technology, University of Science. , Vietnam
Research Interests
Excellent at algorithm and solving problems.
Specialist of software engineering.
Specialist of Bayesian network and hidden Markov model.
Specialist of support vector machine.
Database fundamental and database design.
Artificial intelligence, especially, evolution genetic algorithm, recognition, fuzzy logic, fuzzy set, rough set, neural network.
Machine learning.
User modeling and user profiling.
Adaptive system and personalization system.
Recommendation system, especially collaborative filtering.
Data mining and text mining, especially association rules, classification, clustering.
Data analysis.
Image processing and image retrieval.
Computer graphics and geometry.
Information retrieval, search engine and information extraction.
Open source portal and web OS.
E-learning and educational science.
Analyze and design information system.
Distributed database.
Cryptography.
Compiler and programming language processing.
Functional programming.
Geographic Information System (GIS).
Expert at programming languages: Java, .NET, C/C++, PHP, F#, R, etc.
Very good at software architecture.
Network and web programming.
Desktop and windows applications.
Graphic programming and real-time system: OpenGL, DirectX, XNA, etc.
Content management system (CMS).
Business and commerce system, business process.
Middleware system.
Mobile applications such as J2ME, Android.
Database, SQL language, database design.
Database management system such as MySQL, Oracle, Derby, SQL Server, etc.
Software engineering such as UML, software project management, etc.
Enterprise resource planning (ERP), accounting system.
System driver development.
Industrial robotics kinematics and dynamics.
Electronic healthcare system.
Statistics: Expert Bayesian inference, parameter estimation and hypothesis testing.
Mathematics: Specialist of mathematics; especially, probability, linear algebra, numerical analysis, optimization, approximation, and discrete mathematics.
Medicine: Expert in meditation (Zen). Good knowledge at Oriental medicine and obstetric ultrasonics.
Social science: Specialist of education, linguistics, and philosophy. Expert in theory of Yin-Yang, Book of Change, and Oriental astrology. Good knowledge at history, religion, politics, military, strategics, Zen, leadership, Buddhism, Confucianism, Taoism, Marxism, psychology, and negotiation.
Economics: Specialist of project management. Good knowledge at accounting, finance, and bussiness management.
Work Experience
From 4/2014 to now, Book Author , Incorporating with LAMBERT Academic Publishing - a trademark of OmniScriptum GmbH & Co. KG to publish the book "Matrix Algebra and Calculus".
From 03/2015 to now, Quality Assurance Committee member , Statistics Without Borders - American Statistical Association.
From 3/2015 to now, Co-leader , The project "Ebola Recovery" created and owned by Statistics Without Borders - American Statistical Association and British Red Cross.
From 2014 to 2015, Book Author , Incorporating with Scientific Research Publishing (SCIRP), China to publish the first edition of the book "Mathematical Approaches to User Modeling".
From 2014 to now, Reviewer and Editor , ICL2014, WEEF2014, ICBEB2015, PAK Publishing Group (PPG), Journal Issues, CECNET2015, American Association for Science and Technology (AASCIT), Emirates Association of Computer, Electrical & Electronics Engineers (EACEEE), Science Publishing Group (SciencePG), SCIENCEDOMAIN, International Knowledge Press (IKP), Scientific Research Publishing (SCIRP), Academic Journals, Cogent Mathematics, Studies in Engineering and Technology (SET), International Journal of Emerging Technology and Advanced Engineering (IJETAE), Jurnal Teknologi, International Journal of Biomedical Research, Multidisciplinary Digital Publishing Institute (MDPI), CCCT2015, PENCIL Publication of Physical Sciences and Engineering (PPPSE), International Journal of Artificial Intelligence in Education (IJAIED), Journal Issues, CECNET2015.
From 2014 to now, Book Author , Sunflower Soft Company, Ho Chi Minh city, Vietnam.
From 2011 to now, Director and Researcher , Sunflower Soft Company, Ho Chi Minh city, Vietnam.
From 2010 to 2011, Consultant , TMA Solution Company, Ho Chi Minh city, Vietnam.
From 2008 to 2009, Lecturer , University of Science, Ho Chi Minh city, Vietnam.
From 2008 to 2009, Team Leader , MVN Company, Ho Chi Minh city, Vietnam.
From 2008 to 2009, Senior Developer , Bixon Company.
From 2008 to 2009, Senior Developer , SECUDE Company.
From 2005 to 2007, Researcher and Lecturer , An Giang University, Vietnam.
From 2002 to 2005, Software Developer and Lecturer , Center of Software Technology and Center of Information Technology Development, Ho Chi Minh city, Vietnam.
From 2001 to 2002, Software Developer , WorldSoft Company, Vietnam.
Projects
From 2015 to 2016, The project "Ebola Recovery" created and owned by Statistics Without Borders - American Statistical Association and British Red Cross
The "Ebola Recovery" project aims to build a model to classify high infection risk area and to predict Ebola re-infection events so decision makers can take account of this risk when planning. I am a volunteer working with the team members: Paul Hewson (Leader), Xinyu Tian, Jay Fleisher and supervisors: Martin Klaus, Simon Johnson.
From 2015 to 2017, Special Issue "Some Novel Algorithms for Global Optimization and Relevant Subjects"
We always try our best to create best results but how we can do so? Mathematical optimization is a good answer for above question if our problems can be modeled by mathematical model. The common model is analytic function and it is very easy for us to know that optimization becomes finding out extreme points of such function. The issue focuses on global optimization which means that how to find out the global peak over the whole function.
From 10/2013 to 08/2014, The mathematical research "Approximation of analytic function"
The research proposes two approaches to approximate a given analytic function based on Taylor polynomial.
From 2011 to 2013, Hudup - A framework of e-commercial recommendation algorithms
Recommendation algorithm is very important for e-commercial websites when it can recommend online customers favorite products, which results out an increase in sale revenue. I propose the framework of e-commercial recommendation algorithms. This is a middleware framework or "operating system" for e-commercial recommendation system, which support scientists and software developers build up their own recommendation algorithms based this framework with low cost, high achievement and fast speed. Moreover, two inventive algorithms for collaborative filtering based on mining maximum frequent set and Bayesian network are built inside the framework.
From 2011 to 2013, Phoebe – A framework of estimating fetus weight and age
The project builds up a framework to estimate fetal weight and age via ultrasound measures. In general, this project has two objectives. The first objective is Proposing an effective algorithm which produces highly accurate formulas. This algorithm is a heuristic approach that always results in optimal formulas by the fastest way. The second objective is Introducing a framework that sets up the new algorithm in first goal and builds up a statistical tool which supports physicians and researchers in birth estimation domain. Moreover, physicians and researchers can discover new estimate formulas by themselves.
From 2011 to now (Work in progress), RIM - Industrial robot simulator
The project "RIM - Industrial robot simulator" produces a simulation system for industrial robot arms (work in progress).
From 2007 to 2009, Zebra – A User Modeling System for Adaptive Learning
This research proposes a learner model that consists of three essential kinds of information about learners such as knowledge, learning style and learning history. Such three characteristics form a triangle and so this learner model is called Triangular Learner Model (TLM). The ideology of TLM is that user characteristics are various and only some information is really necessary to adaptive learning and an optimal user modeling system should choose essential information relating to user's study to build up learner model. According to this ideology, TLM will cover the whole of user's information required by learning adaptation process and give the best support to adaptive learning. Moreover, TLM emphasizes on the inference mechanism by applying Bayesian network and Markov model into modeling user knowledge and learning style. Intelligent deduction is the best feature of TLM instead of providing user information only as normal user modeling system.
From 2002 to 2005, AGmagic – An image searching framework
The research build up the image searching framework named AGmagic. The framework AGmagic uses the method so-called Markov Model Mediator to combine low-level features and high-level semantics contents of images in order to find images. Low-level features were extracted from segmentation, color histogram, color gradient, centroid. High-level semantic contents learned from user feedback are measures that reflect personal subjective feeling about the similarity among images. The combination of low-level features and high-level semantic contents gives out excellent result in searching images. Moreover AGmagic framework implements very successfully the segmentation algorithm.
From 2000 to 2004, Design – Implementation of database algebra algorithms
The software Design implements almost algorithms of database algebra, version 1.0 copyright 2000, which is developed when I was studying the subject "Database Design" with teacher Nguyen, T. D. Tien at University of Science. The version 2.0 is issued in 2004 at the Center of Information Technology Development, now known as University of Information Technology, National University, Ho Chi Minh city, Vietnam. Software Design is written in Microsoft Visual C++ 6.0. The next version will support operating directly on databases such as MS Access, MS SQL Server, MySQL, Oracle and has more enhanced functions.
Selected Publications
Books
| | |
| --- | --- |
| 1. | Nguyen, L. (2015). Matrix Algebra and Calculus. Hanoi, Vietnam: Lambert Academic Publishing. |
| 2. | Nguyen, L. (2015). Mathematical Approaches to User Modeling. Long Xuyen, An Giang, Vietnam: Scientific Research Publishing (SCIRP). |
Journal Articles
| | |
| --- | --- |
| 1. | Nguyen, L. (2015). Tutorial on Hidden Markov Model. (L. Nguyen, & M. A. MELLAL, Eds.) Special Issue "Some Novel Algorithms for Global Optimization and Relevant Subjects", Applied and Computational Mathematics (ACM). |
| 2. | Nguyen, L. (2015). Tutorial on Support Vector Machine. (L. Nguyen, & M. A. MELLAL, Eds.) Special Issue "Some Novel Algorithms for Global Optimization and Relevant Subjects", Applied and Computational Mathematics (ACM). |
| 3. | Nguyen, L. (2015, September 28). Introduction to A Framework of E-commercial Recommendation Algorithms. (A. e. Shabayek et al., Eds.) American Journal of Computer Science and Information Engineering (AJCSIE), 2(4), 33-44. Retrieved from http://www.aascit.org/journal/archive2?journalId=912&paperId=1894. |
| 4. | Nguyen, L., & Ho, H. (2015, January 12). A fast computational formula for Kappa coefficient. (A. Genc, S.-A. Xue, R. Rison, & V. Rocha, Eds.) Science Journal of Clinical Medicine (SJCM), 4 (1), 1-3. doi:10.11648/j.sjcm.20150401.11. |
| 5. | Nguyen, L. (2015). Theorem of SIGMA-gate Inference in Bayesian Network. (V. S. Franz, Ed.) Wulfenia Journal. |
| 6. | Nguyen, L. (2015, January 10). Feasible length of Taylor polynomial on given interval and application to find the number of roots of equation. (A. Moustafa et al., Eds.) International Journal of Mathematical Analysis and Applications, 1 (5), 80-83. Retrieved from http://www.aascit.org/journal/archive2?journalId=921&paperId=1017. |
| 7. | Nguyen, L. (2014, October 21). Improving analytic function approximation by minimizing square error of Taylor polynomial. (A. Moustafa et al., Eds.) International Journal of Mathematical Analysis and Applications, 1 (4), 63-67. Retrieved from http://www.aascit.org/journal/archive2?journalId=921&paperId=1016. |
| 8. | Nguyen, L. (2014, September). Theorem of logarithm expectation and its application to prove sample correlation coefficient as unbiased estimate. (A. Guezane-Lakoud, W. P. Fox, E. Francomano, S. A. Episkoposian, E. Nadaraya, A. N. Raikov, et al., Eds.) Journal of Mathematics and System Science, 4 (9), 605-608. doi:10.17265/2159-5291/2014.09.003. |
| 9. | Nguyen, L. (2014, May). A New Algorithm for Modeling and Inferring User's Knowledge by Using Dynamic Bayesian Network. (M. Z. Raqab, Ed.) Statistics Research Letters (SRL), 3 (2). Retrieved from http://www.srl-journal.org/paperInfo.aspx?ID=6933. |
| 10. | Nguyen, L. (2014, May 28). User Model Clustering. (F. Shi, Ed.) Journal of Data Analysis and Information Processing (JDAIP), 2 (2), 41-48. doi:10.4236/jdaip.2014.22006. |
| 11. | Nguyen, L. (2014, April). A User Modeling System for Adaptive Learning. University of Science, Ho Chi Minh city, Vietnam. Abuja, Nigeria: Standard Research Journals. Retrieved from http://standresjournals.org/journals/SSRE/Abstract/2014/april/Loc.html. |
| 12. | Nguyen, L., & Ho, H. (2014, March 30). A framework of fetal age and weight estimation. (B. S. Shetty, J. Morales, a. badawy, C. Mowa, K. K. Shukla, T. Chen, et al., Eds.) Journal of Gynecology and Obstetrics (JGO), 2 (2), 20-25. doi:10.11648/j.jgo.20140202.13. |
| 13. | Nguyen, L. (2014). A New Aware-context Collaborative Filtering Approach by Applying Multivariate Logistic Regression Model into General User Pattern. (F. Shi, Ed.) Journal of Data Analysis and Information Processing (JDAIP). |
| 14. | Nguyen, L., & Ho, H. (2014). A proposed method for choice of sample size without pre-defining error. (F. Shi, Ed.) Journal of Data Analysis and Information Processing (JDAIP). |
| 15. | Nguyen, L. (2015, October 9). An Advanced Approach of Local Counter Synchronization in Timestamp Ordering Algorithm in Distributed Concurrency Control. (N. John, Ed.) Open Access Library Journal (OALib Journal), 2(10), 1-5. doi:10.4236/oalib.1100982. |
| 16. | Nguyen, L. (2014). Specifying Prior Probabilities in Bayesian Network by Maximum Likelihood Estimation method. (B. N. Buszewski, Ed.) Sylwan Journal. |
| 17. | Nguyen, L. (2013). A Maximum Likelihood Mixture Approach for Multivariate Hypothesis Testing in case of Incomplete Data. (A. Guezane-Lakoud, W. P. Fox, E. Francomano, S. A. Episkoposian, E. Nadaraya, A. N. Raikov, et al., Eds.) Journal of Mathematics and System Science. |
| 18. | Nguyen, L. (2013). A New Approach for Modeling and Discovering Learning Styles by Using Hidden Markov Model. (G. Perry et al., Eds.) Global Journal of Human Social Science: G - Linguistics & Education, 13 (4 Version 1.0 Year 2013), 1-10. Retrieved from http://socialscienceresearch.org/index.php/GJHSS/article/view/609. |
| 19. | Nguyen, L. (2013). A new method to determine separated hyper-plane for non-parametric sign test in multivariate data. (A. Guezane-Lakoud, W. P. Fox, E. Francomano, S. A. Episkoposian, E. Nadaraya, A. N. Raikov, et al., Eds.) Journal of Mathematics and System Science. |
| 20. | Nguyen, L. (2013). Nonparametric Hypothesis Testing Report. Vietnam Institute of Mathematics. Warri, Delta State, Nigeria: Science Journal Publication. |
| 21. | Nguyen, L. (2013, July 15). Overview of Bayesian Network. University of Technology, Ho Chi Minh city, Vietnam. Warri, Delta State, Nigeria: Science Journal Publication. doi:10.7237/sjms/105. |
| 22. | Nguyen, L. (2013, June). The Bayesian approach and suggested stopping criterion in Computerized Adaptive Testing. (A. T. Al-Taani, Ed.) International Journal of Research in Engineering and Technology (IJRET), 2 (1-2103), 36-38. Retrieved from http://journalsweb.org/siteadmin/upload/74977%20IJRET021007.pdf. |
| 23. | Nguyen, L. (2011, December). Essay On Leadership. PACE Institute of Management. Ho Chi Minh city, Vietnam: Loc Nguyen's Homepage. doi:10.13140/RG.2.1.4101.1929. |
| 24. | Nguyen, L. (2011). Accounting manual. Institute of Human Resource Development, University of Economics. Ho Chi Minh city, Vietnam: Loc Nguyen's Homepage. doi:10.13140/RG.2.1.1053.7687. |
| 25. | Nguyen, L. (2011). The method of seven qigong exercises of archery simulation. (V. H. Nguyen, Ed.) Nguyen Hoai Van's website. |
| 26. | Nguyen, L. (2010). Convergence of Confucianism, Buddhism and Taoism. In L. Nguyen (Ed.), Leu Chong Zen Club's Conference. Ho Chi Minh city, Vietnam: Loc Nguyen's Homepage. doi:10.13140/RG.2.1.2004.0407. |
| 27. | Nguyen, L. (2010). Discovering User Interests by Document Classification. In I.-H. Ting, H.-J. Wu, T.-H. Ho, I.-H. Ting, H.-J. Wu, & T.-H. Ho (Eds.), Mining and Analyzing Social Networks (Vol. 288 In series "Studies in Computational Intelligence", pp. 139-159). Springer Berlin Heidelberg. doi:10.1007/978-3-642-13422-7_9. |
| 28. | Nguyen, L., & Do, P. (2009). Combination of Bayesian Network and Overlay Model in User Modeling. (M. E. Auer, Ed.) International Journal of Emerging Technologies in Learning (iJET), 4 (4), 41-45. doi:10.3991/ijet.v4i4.684. |
Conference Papers
| | |
| --- | --- |
| 1. | Nguyen, L. (2015, November 14). A New Approach for Collaborative Filtering based on Bayesian Network Inference. The 7th International Conference on Knowledge Discovery and Information Retrieval (KDIR 2015). Lisbon, Portugal: Springer. |
| 2. | Nguyen, L. (2014, December 5). A User Modeling System for Adaptive Learning. Interactive Collaborative Learning (ICL), 2014 International Conference on (pp. 864-866). Dubai, UAE: IEEE Publisher. doi:10.1109/ICL.2014.7017887. |
| 3. | Nguyen, L. (2014, December 6). Evaluating Adaptive Learning Model. Interactive Collaborative Learning (ICL), 2014 International Conference on (pp. 818-822). Dubai, UAE: IEEE Publisher. doi:10.1109/ICL.2014.7017878. |
| 4. | Nguyen, L. (2010). Overview of The System of Acupuncture Spots in Oriental Medicine based on Oriental Philosophy. (L. Nguyen, Ed.) Retrieved from Loc Nguyen's Homepage: https://drive.google.com/file/d/0ByHQY9CungG-MkhmaHhTTWlRRW8/edit?usp=sharing. |
| 5. | Nguyen, L. (2009, September 25). Incorporating Bayesian Inference into Adaptation Rules in AHA architecture. Proceedings of 12th International Conference Interests Interactive Computer aided Learning (ICL2009). Villach, Austria: Kassel University Press, Kassel, Germany. Retrieved from http://www.icl-conference.org/dl/proceedings/2009/archive.htm. |
| 6. | Nguyen, L. (2009, August 31). A Proposal Discovering User Interests by Support Vector Machine and Decision Tree on Document Classification. The International Workshop on Social Networks Mining and Analysis for Business Applications (SNMABA2009) in conjunction with The 2009 IEEE International Conference on Social Computing (SocialCom), 4, pp. 809-814. Vancouver, Canada: Computational International Conference on Science and Engineering 2009 (CSE '09), IEEE Publisher. doi:10.1109/CSE.2009.112. |
| 7. | Nguyen, L., & Do, P. (2009, July 16). Evolution of parameters in Bayesian Overlay Model. In H. R. Arabnia, D. d. Fuente, & J. A. Olivas (Ed.), Proceedings of The 2009 International Conference on Artificial Intelligence (IC-AI'09), The 2009 World Congress in Computer Science, Computer Engineering, and Applied Computing (WORLDCOMP'09) (pp. 324-329). Monte Carlo Resort, Las Vegas, Nevada, USA: CSREA Press USA. Retrieved from http://www.researchgate.net/publication/220834553_Evolution_of_Parameters_in_Bayesian_Overlay_Model. |
| 8. | Nguyen, L. (2009, July 16). State of the Art of Adaptive Learning. In H. R. Arabnia, A. Bahrami, & A. M. Solo (Ed.), Proceedings of The 2009 International Conference on e-Learning, e-Business, Enterprise Information Systems, and e-Government (EEE 2009). The 2009 World Congress in Computer Science, Computer Engineering, and Applied Computing (WORLDCOMP'09) (pp. 126-133). Las Vegas, Nevada, USA: CSREA Press USA. Retrieved from http://www.researchgate.net/publication/220834553_Evolution_of_Parameters_in_Bayesian_Overlay_Model. |
| 9. | Nguyen, L. (2009, July 10). ZEBRA: A new User Modeling System for Triangular Model of Learners' Characteristics. In G. D. Magoulas, P. Charlton, D. Laurillard, K. Papanikolaou, & M. Grigoriadou (Ed.), AIED 2009: 14th conference on Artificial Intelligence in Education, Proceedings of the Workshop on "Enabling creative learning design: how HCI, User Modeling and Human Factors Help" (pp. 42-51). Brighton, United Kingdom: IOS Press Amsterdam, The Netherlands, The Netherlands. Retrieved from http://www.dcs.bbk.ac.uk/~gmagoulas/LD_WorkshopsProceedings-web.pdf#page=46. |
| 10. | Nguyen, L., & Do, P. (2009, June 3). Learning Concept Recommendation based on Sequential Pattern Mining. In E. Chang, F. Hussain, & E. Kayacan (Ed.), Proceedings of The 2009 Third International Digital Ecosystems and Technologies Conference (IEEE-DEST 2009) (pp. 66-71). Istanbul, Turkey: IEEE Publisher. doi:10.1109/DEST.2009.5276694. |
| 11. | Nguyen, L., & Do, P. (2008). Learner Model in Adaptive Learning. Ho Chi Minh, Vietnam: University of Information Technology. |